Product Introduction of OLT-S series continuous carbonization machine
Our company's OLT-S series continuous carbonization machine adopts a double-layer drum structure. Compared to traditional single-layer carbonization machines in the market, it has the characteristics of high thermal efficiency, controllable temperature, low energy consumption, and longer service life.
OLT-S series continuous carbonization machine adopts PLC control throughout the entire process, which can achieve remote supervision. At the same time, customized design and production can be carried out according to customer requirements.
The combustible gas generated during the carbonization and pyrolysis process of a continuous carbonization machine can be fully burned in the combustion chamber to achieve degradation and emission. The recovery and utilization of waste heat can reduce production costs, and the exhaust gas is treated and discharged through a flue gas purification device, which meets environmental requirements.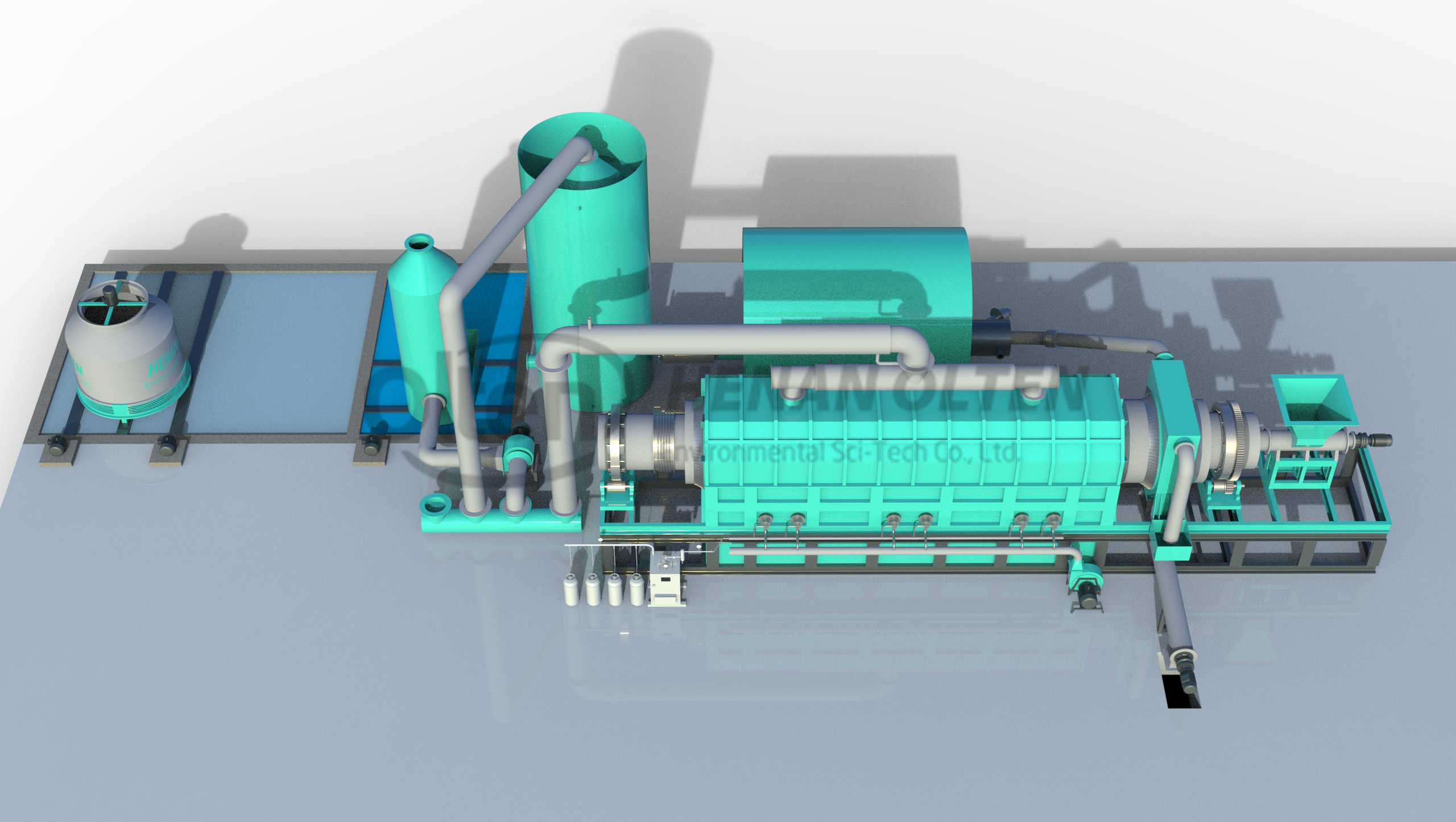 Working principle of OLT-S series continuous carbonization machine
1.Crushing&Drying – Feed Requirements: For materials with a moisture content of ≤ 15% and a size of ≤ 30mm, if they do not meet the feed requirements, they need to be crushed and dried.
2.Carbonization – Heat the carbonization machine to 350 ℃ and start feeding; The host is composed of nested inner and outer cylinders. Materials that meet the requirements during operation first enter the inner cylinder for drying and preheating treatment, and then enter the outer cylinder for carbonization treatment.
3.Production of combustible gas – After 20 minutes of feeding, combustible gas is generated and led by an induced draft fan to the external combustion chamber of the main body for ignition and heating. Using the principle of negative pressure, the hot air flow and flame generated by the combustion chamber are introduced into the lower combustion chamber of the main body, and the main body is heated to reduce energy consumption.
4.Waste heat reuse – A portion of the waste heat flue gas can be used to heat the dryer, reducing drying costs, and the remaining waste heat can be used for boiler combustion, heating, and other purposes. The excess exhaust gas is discharged after passing through the dust removal system (water cleaning, water spraying, etc.) and the flue gas treatment equipment meets the standards.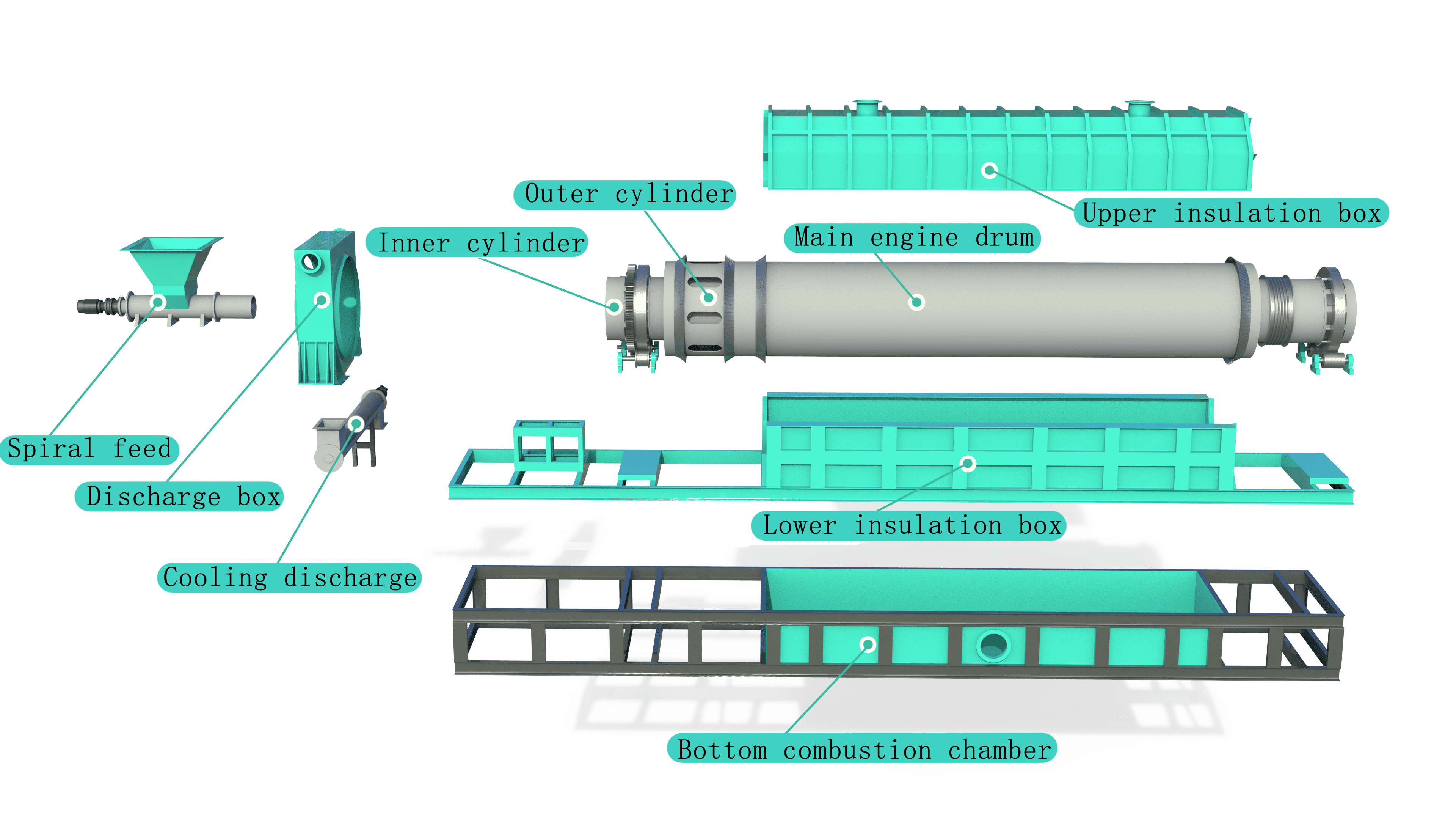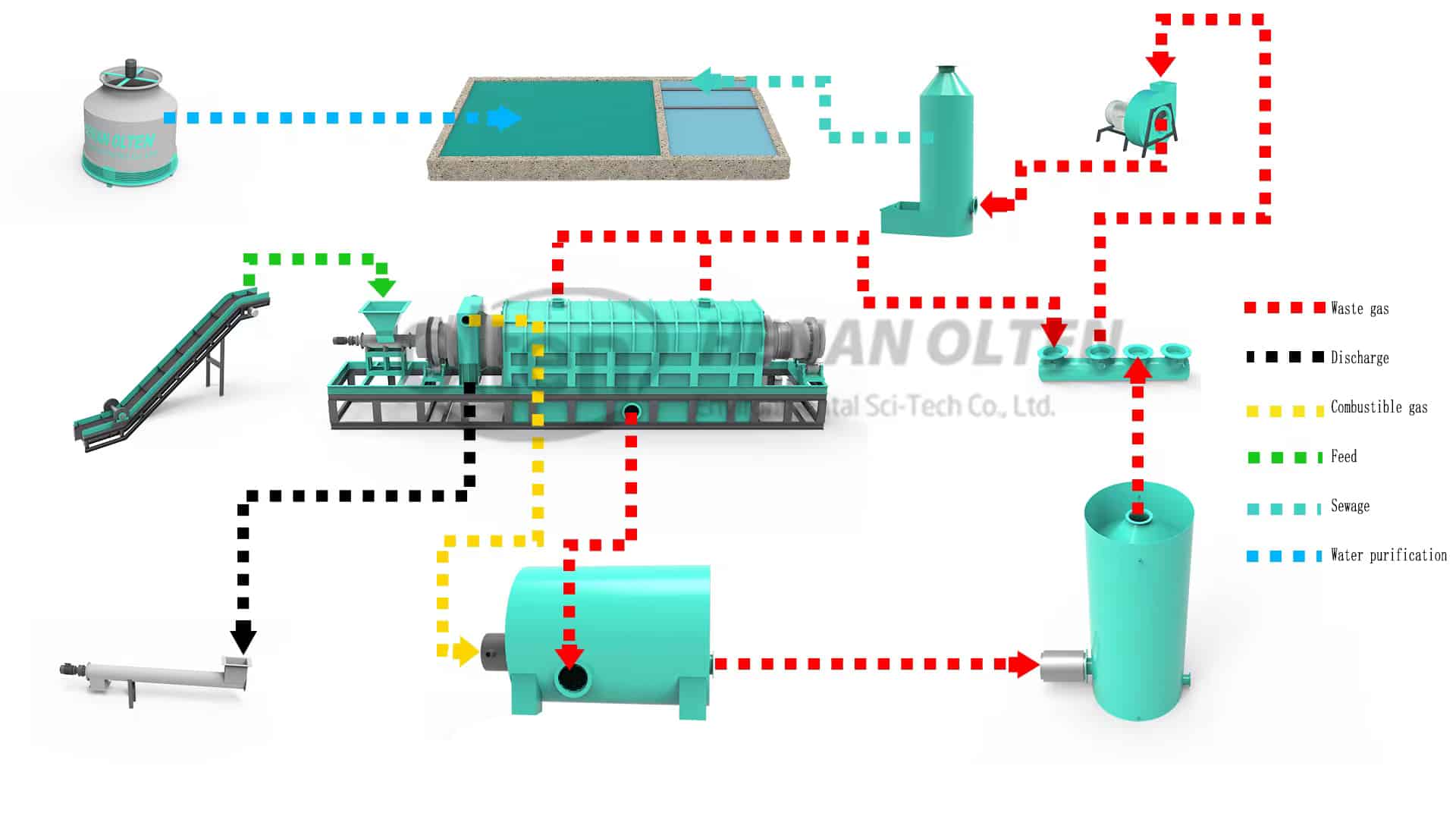 Advantages of OLT-S series continuous carbonization machine
1. Feeding system: Customized "u" feeding machines, tube feeding machines, and large inclination belt conveyors can be provided based on customer materials and site conditions.
2. Feeding system: The feeding port is equipped with a hopper and a limit sensor to ensure the airtightness inside the drum.
3. Main drum: The main drum of the carbonization machine is made of 304 stainless steel, which is resistant to high temperature and corrosion. (Different materials can be customized according to customer requirements)
4. Insulation system: The main box insulation material adopts ceramic fiber insulation modules, which have high density, high temperature resistance, no shrinkage, and good insulation performance.
5. Discharge system: Adopting water-cooled discharge conveyor, with good cooling effect and good economy.
6. Induced draft system: The fan adopts the main impeller made of 304 stainless steel material and has a special sealing structure. Corrosion resistance, high temperature resistance, and no leakage.
7. Heating system: It adopts a direct heating type and can use natural gas, diesel, and liquefied petroleum gas. The temperature can be controlled through PLC.
8. Transmission system: Adopting inner cylinder transmission to avoid thermal damage to the transmission gear ring and roller ring caused by high temperature.
9. Main combustion chamber: Pour high aluminum refractory material to ensure the long-term high-temperature environment of the combustion chamber.
10. Temperature monitoring system: Integrated PLC, capable of automatic control.
11. Sealing system: Dynamic sealing, with a total of 4 seals on the host, each with an 8-layer structure.
12. Purification system: Adopting a combustion chamber for full combustion, it maximizes the solution to problems such as difficult flue gas recovery and difficult residue treatment. The exhaust gas is discharged after reaching the standard through the flue gas treatment equipment.
13. PLC control: Control system manual+automatic, two modes are optional. The feeding speed, drum speed, fan frequency, temperature control, and remote assistance can be adjusted according to the actual situation of the customer.
14. The equipment adopts modular design: it adopts a dual support design of the host and chassis, which can achieve rapid installation and debugging, and adjust to different installation conditions.
Parameter of OLT-S series continuous carbonization machine
| | | | | | |
| --- | --- | --- | --- | --- | --- |
| Model | OLT-S0812 | OLT-S1016 | OLT-S1218 | OLT-S1420 | OLT-S1622 |
| Total power | 35kw | 39kw | 57kw | 57KW | 83.2KW |
| Reducer | ZQ350 | ZQ350 | ZQ450 | ZQ450 | ZQ500 |
| Inner and outer diameters | 820mm*1220mm | 1020mm*1620mm | 1220mm*1824mm | 1420mm*2024mm | 1620mm*2224mm |
| Condenser | 1900mm | 1900mm | 1900mm | 1900mm | 1900mm |
| Spray tower (optional) | 800mm | 800mm | 1500mm | 1500mm | 1800mm |
| Cooling tower (optional) | 120t | 120t | 120t | 120t | 120t |
| Distributor | 1 | 1 | 1 | 1 | 1 |
| Heating nozzle | 7 | 7 | 7 | 7 | 7 |
| Backburner nozzle | 1 | 1 | 1 | 1 | 1 |
| Control system | PLC | PLC | PLC | PLC | PLC |
| Processing capacity | 1200-1500Kg/h | 1500-2500Kg/h | 2800-3500Kg/h | 3200-4000Kg/h | 4500kg-5000kg/h |