Olten®continuous biomass pyrolysis machine is the main biochar production equipment , also known as continuous biochar machine . It can process various biomass raw materials to obtain biochar. In recent years, with the development of environmental protection, the market demand for biochar is increasing. As a leading manufacturer of biochar production equipment in China, Olten® continuous biomass pyrolysis machine must be your best choice.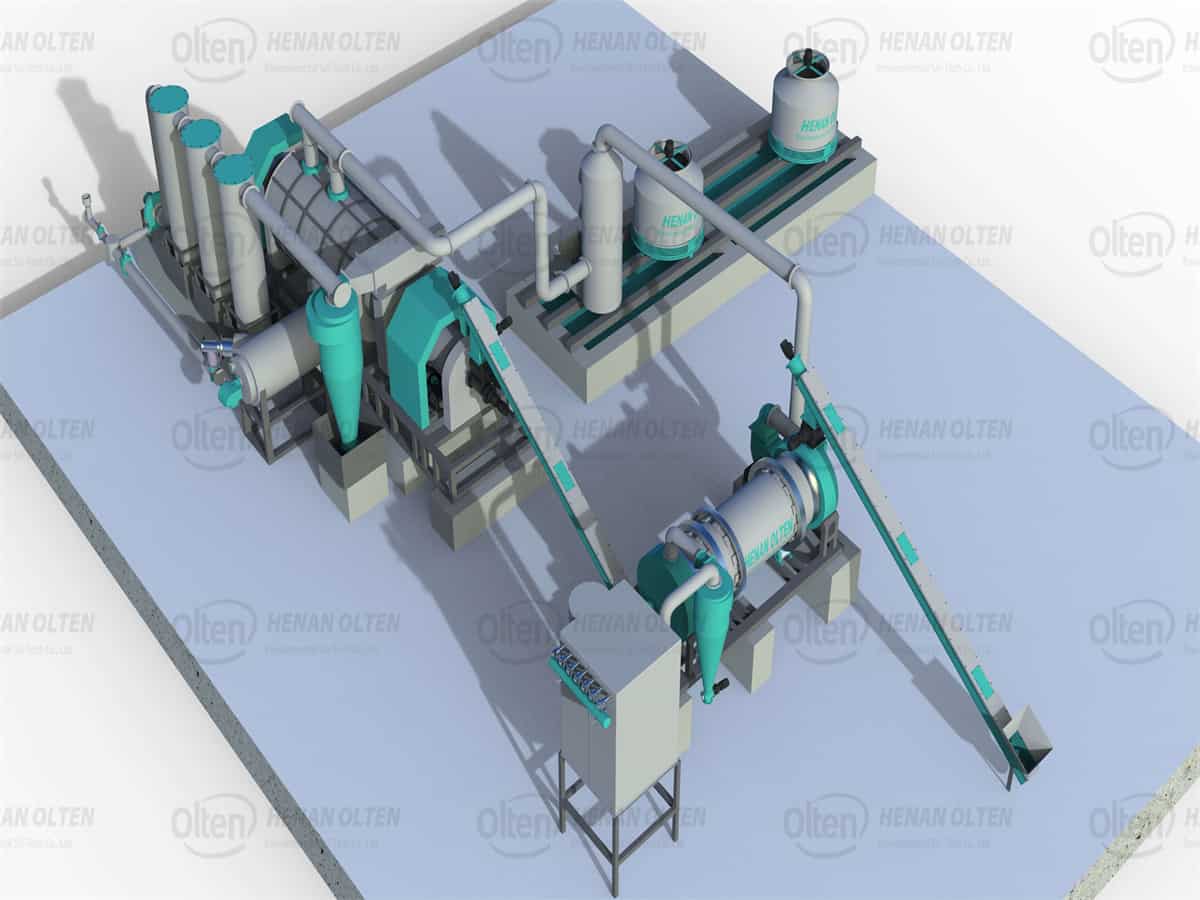 Biochar Production Technology
During the high temperature carbonization process, the biomass is carbonized into bio-charcoal in a micro-oxygen environment. Except for biochar, there are also byproducts like combustible gas, wood vinegar and tar generated in the process. Owing to the differences between the raw materials, the biochar will be different. Generally,
Our Continuous Biomass Pyrolysis Machine is the core equipment of biochar production plant can process wood, rice husk, coconut husk, sawdust, straw, bamboo, palm kernel husk and other raw materials, waste plastics, electronic waste, all kinds of garbage and sludge,etc. Theoretically, it can process all the organic wastes.

Biochar Production Process
Dry: If the moisture content exceeds 15%, it is recommended to first dry it with a dryer to ensure the effect of carbonization in the next stage.
Carbonized: Biomass will be carbonized and pyrolyzed in a carbonization furnace to obtain biochar.
The combustible gas produced during biochar production goes to the condenser, which is then separated into wood vinegar and tar. After the flue gas is treated by the purification system, it is safely discharged outdoors.
Pyrolysis Carbonization Process Workflow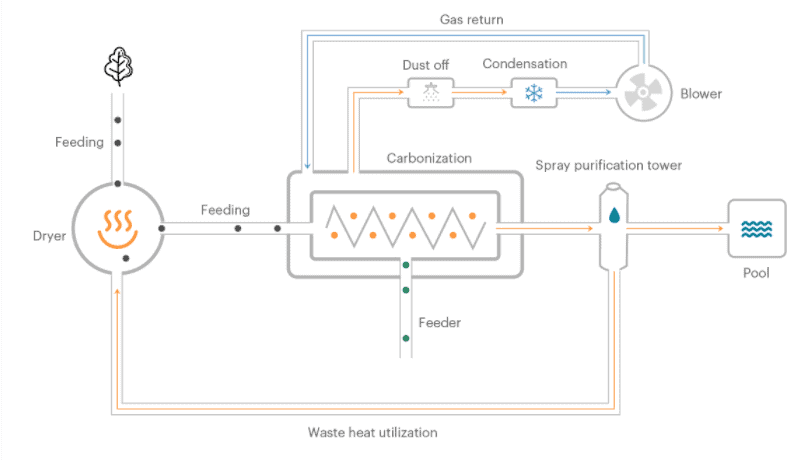 Continuous Biomass Pyrolysis Machine Advantages
Pyrolysis carbonization cylinder: It adopts a double-layer structure, the inner layer is pre-dried, and the outer layer is carbonized. All contacts with materials are made of 304 stainless steel, which is resistant to corrosion and high temperature.
Good thermal insulation: high-aluminum refractory castables and ceramic fiber insulation cotton are used to withstand high temperature and reduce heat loss.
Sealing: The equipment is equipped with multiple seals, and each seal adopts a three-layer structure such as stainless steel gasket and flame retardant cloth, which has good sealing performance and high safety.
PLC control: advanced automation technology, Siemens PLC S7-1500 controller or Modbus control.
Applications of Finished Products
Biochar:
Used as fuel.
Used as soil conditioner.
Reprocessed into activated carbon for wider application.
Wood vinegar:
Widely used in agriculture, it is an ideal substitute for chemical pesticides.
Tar:
It is an important raw material for the production of plastics, synthetic fibers, dyes, rubber, medicine, high temperature resistant materials, etc.
Continuous Biomass Pyrolysis Machine Customer Case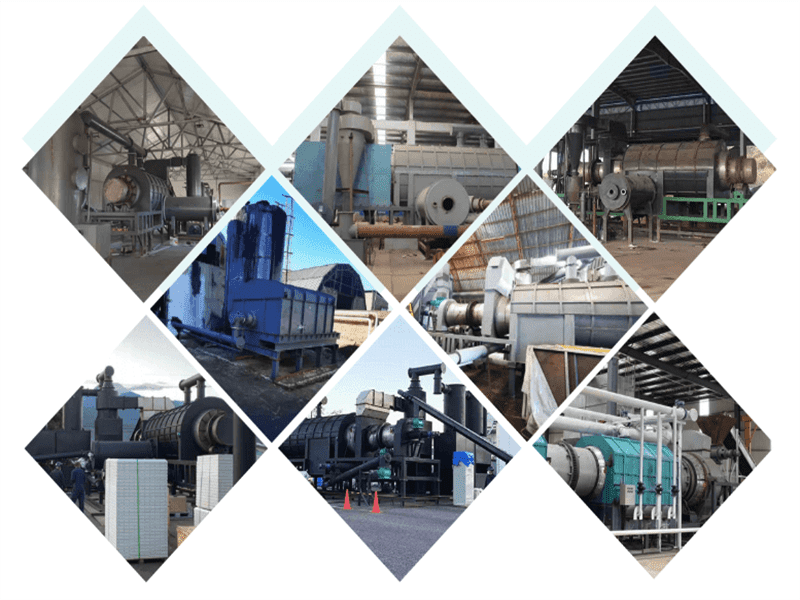 We Also Produce Waste Plastic Pyrolysis Machine For Sale , Welcome To Contact Us.
Design reasonable:
The double-layer structure is adopted to ensure the carbonization effect and ensure that there is no waste of heat.
Intelligent operation:
PLC control can realize accurate temperature measurement; modular design can realize rapid assembly and debugging.
Focus on environmental protection:
complete sealing settings, special dust removal, desulfurization, cooling and flue gas purification and filtration systems.
Perfect service system:
Pre-sale service: Provide you with project design, process design, formulate the purchase plan for your machinery and equipment, design and manufacture products according to your special needs, and train technical operators for you.
In-sale service: Accompany you to complete the acceptance of equipment, assist in formulating construction plans and detailed processes
After-sales service: The company sends technicians to the scene to guide the installation, commissioning and training of operators.